Chapter Officers
Brenna Gibson
President
Hello! I was born and raised in Edmond, OK. I love all forms of travel and taking pictures while I'm at it. The warm seasons are my favorite--driving with the windows down, my sunnies on, and the radio playing my favorite music. In my free time, I enjoy reading, scrolling on Pinterest, crafting, and having movie nights with friends.
Year: Junior
Major: Accounting, Pre-Law
Caroline Rodgers
Vice President of Standards
I am from the relatively unknown city of St.Louis, MO and proudly rep the Midwest! I love to watch The Office, crack jokes and eat street tacos. I love screaming lyrics to 2000s hits with my sisters while going on late night drives around Tulsa.
Year: Junior
Major: Marketing
Minor: French
Maddie Morris
Vice President of Organization
I am from Owasso, Oklahoma and transferred to TU as a sophomore. I rushed at TU and thankfully became a Kappa! I love being outdoors and traveling to new places. I am involved in University Ambassadors as well as ITU.
Year: Junior
Major: Computer Information Systems
Minor: Cyber Security
Rebecca Slay
Vice President of Academic Excellence
Lover of life and all the challenges it brings. I enjoy being a part of the TU band (percussionist and pianist)! I like spontaneous adventures, dogs, and all the desserts. I'm super excited to serve as Delta Pi Chapter's VPAE this year.
Year: Sophomore
Major: Biology/ Pre-Medicine
Minor: Music
Rebecca Puls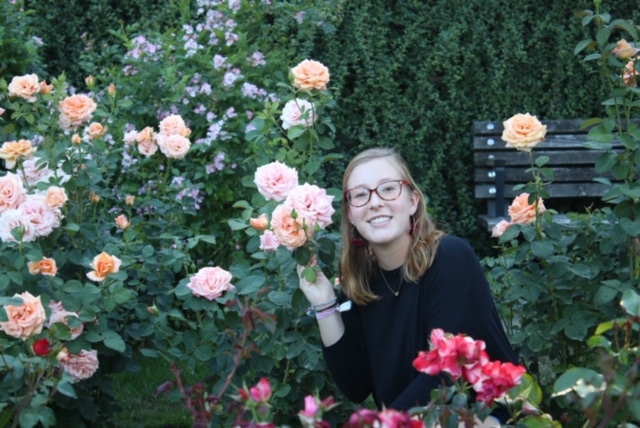 Recording Secretary
Hello! I'm from Oklahoma City but I love traveling and exploring new places around the world! I love to be outside and spend quality time with my friends and family. I always enjoy warm cookies and a fresh cup of tea!
Year: Junior
Major: Exercise and Sports Science
Minor: Spanish
Remmi Smith
Treasurer
Hello! My name is Remmi Smith! I'm from Tulsa, Oklahoma! I am a Chemical Engineering major because I love math (I am a nerd) and I am interested in further studying food science. At TU, I am an active member of the American Institute of Chemical Engineers and President of St. Therese's Women's Group at the Newman Center. Among other things, I enjoy cooking things (wish I could bring a mini kitchen to college), socializing, and the occasional dance party/jam out session. I am one of seven children in my family, so I am used to having a lot of siblings and look forward to meet all of my future Kappa sisters!
Year: Freshman
Major: Chemical Engineering
Michaela Perez
Marshal
From Saint Louis, Michaela is so glad she came to TU and joined Kappa! Her favourite Kappa memory is learning she is getting twin littles! She loves them and she loves Kappa!
Major: Sociology
Minor: Education
Madeline Rice
Education Chair
Madeline is passionate about her Accounting Major and she aspires to be a traveling auditor after she completes her Masters and undergrad. She loves to be able to organize business as well as friend gatherings. She loves to dance and create her own adventures as she travels with friends, whether it be at her home in Houston TX or away on vacay with her family.
Year: Junior
Major: Accounting
Emily Yarber
House Chair
I love hiking, backpacking, camping and Kappa!
Year: Sophomore
Major: Energy Management
Emily Slay
Membership Chair
From Hot Springs, Arkansas, one out of a set of triplets, and lover of all things music- catch me in the Sound of the Golden Hurricane's Colorguard!
Year: Sophomore
Major: Biology (Pre-Vet)
Minor: Music
Sara Swise
New Member Chair
Media Studies & Early Intervention Bio: My name is Sara Swise, and I am so excited to be the New Member Chairman for Delta Pi! I'm from Oklahoma City, OK. I love going to coffee shops and restaurants with friends, and just doing anything relaxing like listening to music. Outside of Kappa, I spend a lot of time in my research lab and interning at Youth Services of Tulsa. I can't wait to meet Kappa's new members and help integrate them into this amazing sisterhood!
Year: Junior
Major: Psychology
Avery Smith
Panhellenic Delegate
I grew up in Houston Texas with her family in Meyerland. I have a twin sister and an older brother as well as 3 dogs and 2 cats.
Year: Freshman
Major: CIS
Minor: Economics, Psychology
Suzy Evenson
Philanthropy Chair
Originally from St. Louis, MO, I'm a junior mechanical engineering student at TU who enjoys being involved on campus and in Kappa!
Year: Junior
Major: Mechanical Engineering
Madi Estes
Risk Manager
I am a Speech and Debate coach with Union highschool and a barista at Starbucks. My second favorite restaurant is Taco Bell.
Year: Junior
Major: Energy Management
Ann Marie Flusche
Event Chair
I was born in Tulsa, OK. I love to read and write. Hanging out with my friends and family is my favorite thing. I enjoy roller coasters, drawing, and having movie marathons!
Year: Freshman
Major: Biology (Pre-Med)
Minor: Biomedical Engineering, Neuroscience